You may be thinking of having your own hog or spit roast at your home, business or a different venue of your choice, and while Hog Roast Camelford has a fantastic array of catering options, you may want to DIY instead. If that is the case, we can help you look like a pro chef in no time, as when we hire out our high-quality equipment, we also ensure you get our expertise as part of the package too. We've spent many years perfecting this kind of food and we can easily teach you how to do what we do – and it's actually much more simple than you might think. Our hog roast machines are really easy to use and we should know – we designed them and we hand-build them in our factory in the northwest of England! We've made them simple to use while not compromising on what they are able to do and that's cook gorgeous food time and time again.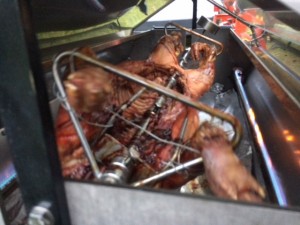 We recently heard from one of our regular customers, Anthony, who has hired our hog roast machines in the past as well as enjoyed our catering services for several events at the pub where he is the landlord. He asked Hog Roast Camelford if he could hire a machine for a fundraising event and also asked us to source a fresh, local pig. We can always do this for our customers if needed, as we've built up relationships with local farmers and butchers who we trust to supply only the best quality meat. We booked Anthony in to rent one of our popular Titan machines over the weekend and to purchase a large beast that would feed around a hundred people.
On the day that we took the machine and accompanying pig along to Anthony's pub for him to cook for his event, it was pouring down. Thankfully, he has an undercover area outside and that's where we set up the machine for him. Having done this several times before, we didn't need to show him how to use the Titan, so we left him to it. When Hog Roast Camelford collected the machine from Anthony the next day, he told us all about the successful fundraiser and we agreed that it was likely all the more successful because of the gorgeous hog roast that he served on the day.