Ending April on a high note, Hog Roast Helston attended the wedding of Mr and Mrs Kempton, where in addition to the couple's 55 friends and family, there were some very special guests in attendance!
As the couple had chosen to tie the knot at the famous Cornish Camels, a 16th-century organic farm set amidst 250 acres in the Lizard Peninsula, the Kempton's benefited from having real-life camels at their wedding! Yes, you read that right! This was definitely a first for Hog Roast Helston, which made the experience all the more exciting and memorable.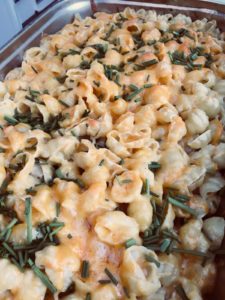 As for the food, the rustic setting and theme meant that our Southern Slow Roast Menu was ideal for this event, so our Hog Roast Helston catering crew spent the entire morning preparing a splendid spread, which included delicious BBQ pork butt, Texan 24 hour beef brisket and Cajun-spiced whole roast chickens with a choice of grilled vegetable and halloumi skewers for the veggie and vegan guests. Gluten-free rolls and wraps were also included and giving the menu some extra depth and flavour, we also made sure to present the group with side options of corn cobbettes with warm melting butter, rich and creamy all-American style mac and cheese and roasted baby new potatoes.
Our catering manager, Paul, made sure the food was ready in time for the couple's chosen serving time at 2 pm, and thanks to the skies remaining clear all afternoon, the wedding party was able to enjoy their sumptuous rolls stuffed with juicy, tender and mouth-wateringly delicious meats outside, where they could watch the camels lazily graze on the green pastures.
As far as nuptials go, the wedding of Mr and Mrs Kempton is undoubtedly one for the memory books, and we are so pleased that they invited us to be a part of such an incredible day! Even better than that, everyone who attended the reception had great things to say about the food options that our Hog Roast Helston team provided on the day, which kept everyone in a great mood as the celebrations carried on into the evening.